Why did you hate Christmas
Christmas is as stupid as humans: the festival of mixed feelings
Anyone who hates the holidays hates the human being. But this feeling is also nice. A dialectic with tinsel.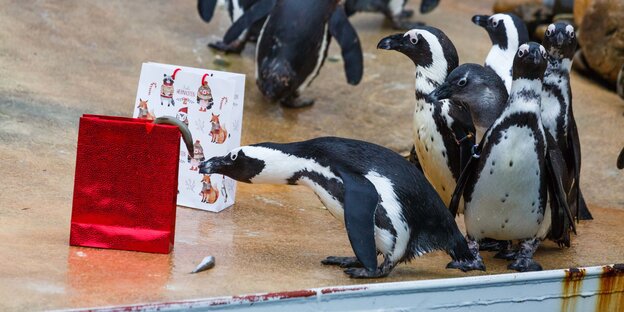 Even the penguins don't get squid. He has a divine consciousness Photo: dpa
The Christmas story is cruel. At the beginning babies are killed while the angel of the Lord chatters with the shepherds. This story is unbearably cynical.
But that's not new. There is nothing new for Christmas. It is the festival of eternal consumption and the eternal criticism of consumerism. Everything is ritualized. If you want to escape, you have to go for a naked walk, not in the cold, but on Mars. The Romans crucified Jesus because he was a pacifist dream dancer. Today he would not be the son of God, but an ecofeminist.
If you want to know more about this, listen to Klaus Kinski's "Jesus Christ Redeemer" in full length on YouTube on Christmas Eve and don't forget that Kinski's daughter says he abused her. Christmas is the story of man as God as man as God as man as God as - man as pig.
Nobody on social networks wonders why we don't eat octopuses or dolphins for Christmas. It would be consistent. Squids have a divine consciousness because they can imagine themselves to be a stone. Dolphins, on the other hand, know the world formula. They are both higher living beings. What a powerful metaphor it would be to eat superhuman dolphins and octopus instead of geese, pigs or cattle punished with just human sensitivity. The tradition of eating them is their bad luck. All living beings except humans know that humans are a force of nature. Those who are exposed to the forces of nature are unlucky. The Christmas goose is therefore unlucky from the point of view of the Christmas geese. Jesus was vegan. I believe in that and I eat goose.
Anyone who survived two commercial breaks on television at Christmas knows that humanity will destroy itself. No need to worry. As a demented, but at least networked civilization full of pleasure and lust, you can transform yourself into a horde of smileys. And then explode. That is Christmas too.
The perfect exploitation of the resource emotion
Now let's be honest: It really doesn't hurt anyone to lovingly hand each other stuff once a year with which one could fill a total of a few hundred Pyramids of Cheops. Do we want to look each other in the eye and chatter indignantly about the neoliberal culture industry? Jesus Christ, if it makes you happy for Christmas, do it. I prefer to watch the new part of "Star Wars".
Man, cattle and angels, victims and perpetrators, we sit in the echo chamber of madness and have fun doing it
Everything just industry, everything just bought myth, bought mood, pre-produced factory feelings, cast in the form of underpaid migrant workers in Indonesia or China - pfff. Christmas is like an emotional law of nature: it produces the same reactions every time the experiment is carried out, abstinence and disgust are two of them.
Any dumb algorithm can use your Facebook profile to predict whether you will buy wooden toys or plastic blocks for Christmas. You are a predictable angel. Don't be outraged by the others, don't be outraged by yourself, don't be outraged at all. For some, Christmas is home, for others, brainwashing. For me, brainwashing is home and home is brainwashing. Take it seriously.

This text comes from the taz on the weekend. Always from Saturday at the kiosk, in the eKiosk or with a practical weekend subscription. And around the clock on Facebook and Twitter.
There is nothing new for Christmas
Christmas is the perfect economic exploitation of the resource emotion. I do not care. Put the Just imagine a simple, globally understandable symbolism, whoever the are: Shining children's eyes, red-headed figures, snow-covered conifers, the same stories forever, home is ready. I was once in Santo Domingo in the Caribbean for Christmas. There they had no fir trees, so they hung the palm trees so excessively with fairy lights that there were constant power outages in the evening in December. I had homesickness.
There is nothing new for Christmas. Except for large-scale "Who Jesus really was" stories in German weekly magazines. As reliable as gravity in the whole universe. Isaac Newton didn't have an apple on his head, but a Nuremberg Christmas stollen, rock-hard. No, Christmas is not the festival of love, but it is like love: everything has long been said about it, and every time nothing has been said. Even the recipes for the cookies are not routine because we forget them. Nobody can remember how much melted butter is still tender on a stomach.
The persistence of the contradiction
This is important. Forgetting. Christmas is as stupid as the human being. Hate Christmas, hate the human being. See it as a single contradiction. All of them carry home individuality, packed in shopping bags, devised by others, produced at the other end of the world and printed with the names of the mass brands. Don't give anything this year? Maybe something small, we'll donate something for that. Remember, Bread for the World cannot distribute possible billions. And would we not destroy local economic cycles in developing countries if we were donated, as the EU does with its chicken ass exports to Africa? Isn't it more about the right trade policy ... sorry, I'm digressing.
I now know what that does to me, this persistence of contradiction. Every year you become the most blatant victim of plastic attitudes towards life. And perpetrators, yes perpetrators are also. You keep the world Christmas shop going. Have already watched "The Little Lord" again, ate candied nuts, mulled wine hangover and decorated a tree. You have ordered from Amazon again. Amazon is nasty and practical.
Isn't it nice. That Christmas feeling. Once a year turn the soul inside out and find that it is moldy in the corners. Like all souls. Man, cattle and angels, victims and perpetrators, we sit in the echo chamber of madness and have fun doing it. Have you already bought a homeless magazine? Try it, fight hunger with 50 euros and don't keep trying to get the word out Indulgences to grumble to yourself. No reproach, really now, the next year will cost a lot of strength again. Last Christmas was on at the mall recently and I had this inner debate:
I: You would have to set everything on fire here.
I as well: Oh! 30 percent discount! And that BEFORE Christmas!