TEGADERM Foam Bandage FK 8.8x8.8 cm 90604
Your mail order pharmacy - you search, we find
Rate this product: (0.0)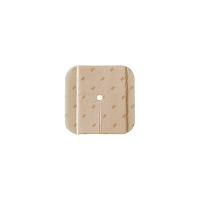 Similar to illustration
Providers:

Fresenius Kabi Germany GmbH

Dosage form:

Association

Pack size:

10 pcs

PZN:

06917136
Your price:

122,46 €*
122,46
Availability:
Immediately available, 1-2 working days
TEGADERM Foam Association

3M Tegaderm Foam is a breathable wound covering for all slightly to heavily exuding wounds.

Thanks to its unique 4-layer structure, the highly absorbent foam guarantees particularly effective exudate management and can be worn for up to 7 days.
As a primary or secondary dressing *, for lightly to heavily exuding, superficial to deep wounds:



Leg ulcers of various origins, e.g. B. venous, arterial, mixed
Decubitus ulcers
Diabetic foot syndrome
Lacerations and abrasions
Neuropathic ulcers
Around the exit points of drains and catheters
Under compression therapy


* When treating deep wounds in combination with a suitable wound filler.




Strong and rapid absorption of wound exudate
Soft, supple and comfortable
Breathable and permeable to water vapor
Dimensionally stable and pressure-resistant
Simple and safe to use
Safe barrier against liquids, bacteria and viruses1


1 In vitro tests show that the transparent film forms a barrier for viruses with a diameter of 27 nm or larger, as long as the dressing remains intact and no liquid seeps through. This was ascertained as part of internal quality checks at 3M Deutschland GmbH, Neuss. All results of the surveys are deposited with the company 3M Deutschland GmbH in Neuss.
Put both products in the shopping cart and save
Other customers have also bought the following products

09280 - 9844 44
Order
Mon-Fri 8:00 a.m. - 6:00 p.m., Sat 8:00 a.m. - 12:00 p.m.
Pharmaceutical advice
Mon-Fri 8:00 a.m. - 5:00 p.m.
(Telephone costs depend on the telephone provider and tariff)

Strong bones through exercise: Read here how to prevent bone loss.
NEW! April 15, 2021
We are customer champions 2021!

Read on here
10.11.2020
Medicines-per-klick.de is savings champion 2020!

Read on here