Walmart won't have cashiers in 2020
Supermarket of the future: Walmart launches robot offensive
For Elizabeth Walker, it is the beginning of a wonderful friendship. "Every hero needs a helper," wrote the brand manager when she announced at the beginning of April that her employer, Walmart, will be relying on robots in the future. Man and machine, like Luke Skywalker and R2D2, the main characters of the famous Star Wars trilogy. "The right form of support helps our employees to be successful in their job."
The American supermarket chain Walmart is one of the first companies to venture into the automated retail sector. For a few weeks now, the retail giant has been testing various forms of robots that are supposed to help employees. During regular opening hours, the silent assistants roll through the aisles, scan the shelves, mop the floors and report if an item is in the wrong place. "This is not about a fantasy world," says Walker, "but about saving customers time and money in real life."
Two billion dollars for efficiency
The automated helpers are Walmart's latest weapon to be able to survive in the fight against online retailers like Amazon and Alibaba. The retail giant operates 11,000 stores worldwide, almost half of them in the USA. 90 percent of Americans live no further than ten kilometers from the nearest Walmart, and that is exactly what has long been the unbeatable advantage of holding up against the competition from the Internet. But since more and more customers are shopping online and the operating costs of the 17,000 square meter supercenters can hardly be refinanced, Walmart is forcing itself to an automated revolution.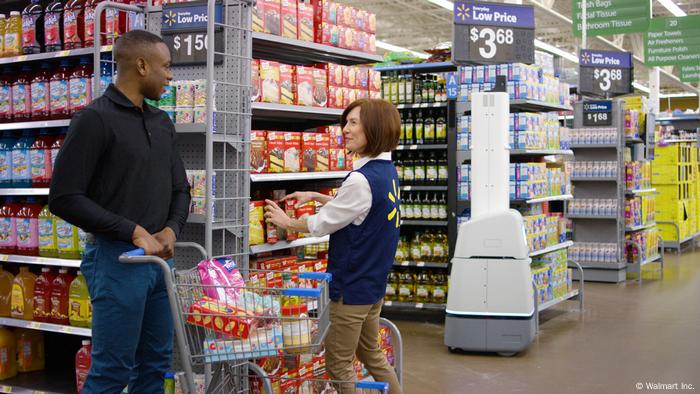 Walmart says the robots should help employees rather than replace them
The retail giant invested two billion dollars last year to trim its stores nationwide for efficiency. A large part of the money went into automation, which is supposed to optimize the processes in the branches. The robots - almost 4,000 pieces are currently being distributed in US branches - work more than twice as fast as their human colleagues, and in individual cases even faster: the machines take inventories, for which employees normally need two weeks, in just two and a half hours. Cleaning forces are now only required for hard-to-reach areas.
Loading belts now help with unloading the goods from the truck. Instead of eight employees, it only takes four to accept the freight, and that's a good thing, argues Walmart. After all, the main thing is to relieve employees of tedious and monotonous work. "The step into the future is above all a step towards happier employees," says brand manager Walker.
Unions are sounding the alarm
For unions like the United Food and Commercial Workers International Union (UFCW), America's largest private organization, this line of argument is mockery. In the past, workers 'associations had reprimanded the labor practices of the trade giant, which repeatedly made headlines with low wages, sabotage of workers' representatives, the questionable handling of sick days and the increasing number of part-time workers. "Make no mistake," warned the workers' association in December: "Walmart is not about making employees or customers happier."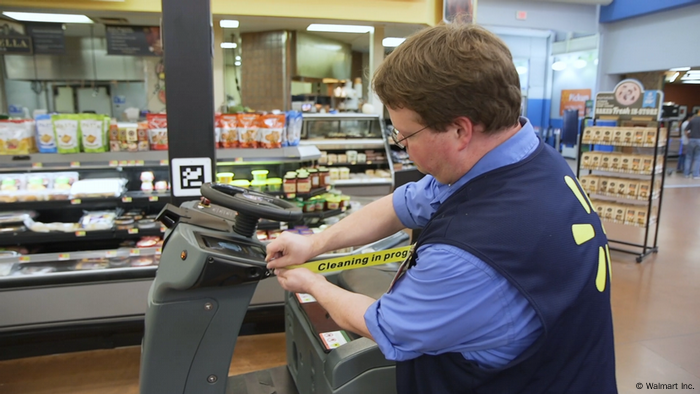 Preparation of the cleaning assistant
UFCW calculates that up to 5000 jobs could be lost through automation at Walmart. The robots are thus absolute job killers and no guarantee of satisfaction. The increasing number of part-time workers also means that employees have to work more and more, says Andrea Dehlendorf, co-director of the United for Respect (OUR) organization at Walmart. "Not a single person I've spoken to says their job is now easier."
Michael Dastugue, US CFO at Walmart, makes no secret of the job losses. "As we continue to develop, there will certainly be some tasks and positions that will be eliminated," he said at an analyst conference in March. Employees do not have to fear for their employment, they would simply be used elsewhere. "We all have to become more flexible and learn to deal with change."
"Most exciting time in retail"
But that's exactly what many employees fear, because not everyone can be as flexible as Walmart would like them to be. Employees in the low-wage sector, where automation is particularly hard hit, are particularly affected. According to UFCW, around 3.4 million people work as cashiers in the USA alone - jobs that are already being eliminated more and more thanks to automated checkouts where customers scan their goods themselves.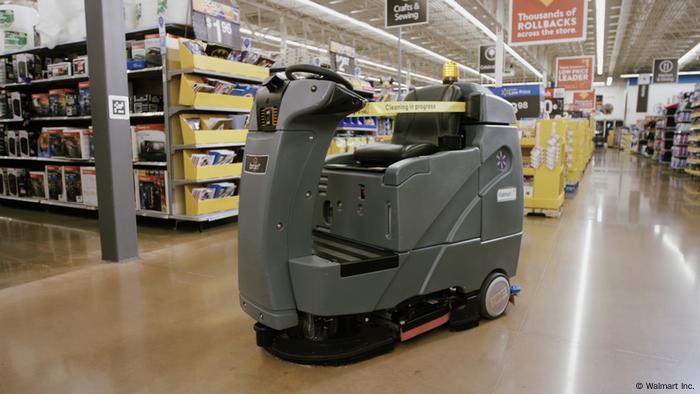 A clean robot at work
Advanced education and training are a way to differentiate yourself from robots. But not everyone has the talent to do demanding work and have a career in Silicon Valley, argues UFCW.
However, experts like Sterling Hawkings see Walmart's advance as an important step towards the future. "We're experiencing the most exciting time in retail in more than 100 years," said Hawkins, who conducts research at the Center for Advancing Retail & Technology, for Forbes magazine. Unlike in the logistics industry or production, things like automation, artificial intelligence and robotics are only now suitable for everyday use in retail. "The technology has finally reached a point where it pays off technically and economically for companies."