How are marketing and advertising related?
Marketing vs. Advertising
It happens from time to time in my circle of friends that I am asked about my job. I then tell them that I am a marketing consultant and that the core of my job is to help companies sell more. Then there are usually terms such as customer satisfaction, customer loyalty, complaint management, PR, strategy development, marketing conception, pricing policy, etc.
In response, I usually hear statements like:
"Oh, all right, so you're doing advertising."
To which I answer:
"No, I do marketing - marketing is not advertising, but advertising is marketing".
Since the interviewees usually look a bit puzzled at this point and the explanation for this cannot be given in one sentence, a detailed explanation follows in this technical article.
Marketing is not just advertising
When people hear the term marketing, many people immediately think of or understand the same thing as advertising. They think of commercials on radio and television, of colorful posters, catalogs and brochures or of advertisements in magazines and on the Internet. So far so good. But that is only the half truth. Because marketing is much more than just advertising.
In order to dispel this misunderstanding, here is an attempt at a simple explanation:
Marketing can be understood as a complex process that encompasses many different areas. There are a number of definitions for the term marketing in the literature, which I would like to spare you and myself here and try to explain it in a simplified way:
Marketing is a holistic approach and a consciously market-oriented management of the entire company. This means that all company activities are specifically geared towards the market or the customer. Marketing is therefore an important discipline in business administration.
Marketing in the classic sense deals with the following four main areas:
Product policy
Pricing policy
Distribution policy
Communication policy
These 4 points are also known as the 4P of marketing because of the English namesProduct,Price,PlacePromotion. When applying this 4P, one speaks of the marketing mix.
Marketing must therefore provide answers to questions such as What products do I offer? What price do i ask? Where and how do I sell my products? How can I make my product known, generate demand, etc.?
As the area of ​​service plays an increasingly important role, a fifth point is often added in current marketing literature and by marketing experts:
Each of these main areas is in turn divided into different sub-areas.
The marketing mix
The classic marketing mix
Where is the advertisement now?
Advertising is a sub-area of ​​the fourth P, i.e. communication policy or promotion. In addition to advertising, communication policy also includes other disciplines such as sales promotion, public relations, event management, networking, etc.
It quickly becomes clear that marketing is much more than "just" advertising!
In the marketing mix listed above, the "instruments" are defined, i.e. it is decided here which means are used to achieve the set goals. As part of a marketing concept, further points must be clarified before choosing these marketing instruments. The process of a marketing concept normally consists of three conceptual levels.
Marketing goals
Marketing strategies
Marketing mix
Marketing concept pyramid
Marketing concept pyramid in reverse. Goals, strategies, marketing mix
Marketing as a strategic process
Marketing is a strategic process and deals with the planning, coordination or implementation and control of the individual marketing measures. This also includes market and marketing research, i.e. procurement, evaluation and interpretation of data relating to markets, competition, target groups, etc.
You can see what else is part of a marketing process and how we can support you in this under Consulting Services.
More about marketing and e-business
In our MARKTPRAXIS blog you will find further interesting articles about marketing and the internet. We also have various specialist articles on all aspects of marketing and e-business.
The above description of marketing and advertising is intended to help avoid the conceptual equation of marketing and advertising and to make it clear that marketing is far "more" than advertising. As is so often the case, there is of course a multitude of different marketing literature and approaches for describing marketing and marketing mix.
Here is a representation of the online marketing mix adapted for internet marketing.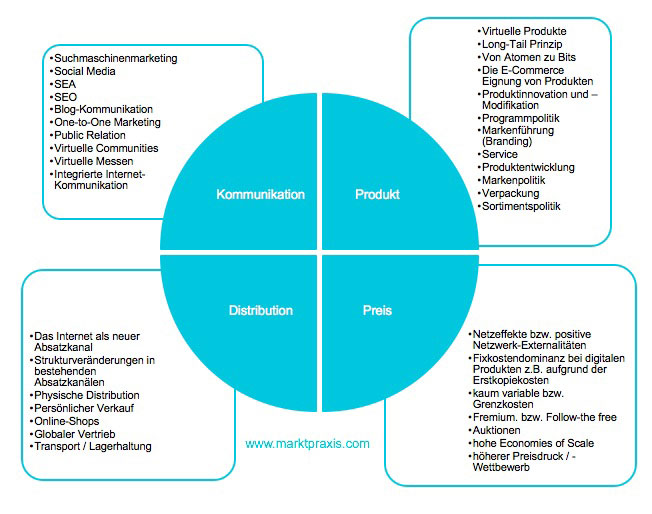 Online marketing mix: Attempt to present the respective sub-areas and online marketing instruments adapted to online marketing
A very good insight into how complex and extensive the subject of marketing is can be obtained e.g. B. in the free encyclopedia Wikipedia.
Do you have any further questions or would you like to make your marketing more successful? Contact us!
This article was last updated on 09/02/2017!