Well worth the law faculty in 2019
Academic lunch break of the Law Faculty in the summer semester 2019
UNDERSTAND RIGHT, CREATE RIGHT
Challenges of Legal Thought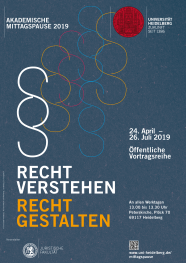 In the 2019 summer semester, the Law Faculty designed the "Academic Lunch Break" that has been established at Heidelberg University for several years.
Below you will find an overview of the individual topics. You can watch many of the lectures again on YouTube. Simply follow the link.

PROGRAM OVERVIEW

I. Review: 1819, 1849, 1919 and the legacy of Weimar
II. Stability: 70 years of the Bonn Basic Law
Monday, May 6th, 2019
The Weimar Constitution and the Basic Law
Prof. Dr. Drs. H.c. Jochen Abraham Frowein
Tuesday, May 7th, 2019
The first Federal President: Theodor Heuss
Prof. Dr. Stefan J. Geibel, Maître en droit (Aix-Marseille III)
Wednesday, May 8th, 2019
The legitimacy of the Basic Law
Dr. Benjamin Strasbourg
Thursday, May 9th, 2019
The structure of the state: from the bottom up!

Prof. Dr. Hans-Günter Henneke
Friday, May 10th, 2019
Are we facing a post-constitutional age?

Prof. Dr. Jan-Philipp Schaefer
Monday, May 13th, 2019
Justified skepticism or exaggerated caution? The direct democratic reluctance of the Basic Law

Jun.-Prof. Dr. Wolf Schünemann
Tuesday, May 14, 2019
The Böckenförde dictum and its interpretations
Dr. Patrick Hilbert
Wednesday, May 15, 2019
Sustainability in the Basic Law!
Prof. Dr. Wolfgang Kahl
Thursday, May 16, 2019
Sham federalism or: The inertia of the unitary federal state

Prof. Dr. Lars P. Field
Friday, May 17th, 2019
The principle of democracy in the Basic Law: Constitution and constitutional reality

Prof. Dr. Manfred G. Schmidt
Monday, May 20, 2019
The Constitutional Convention of Herrenchiemsee
Vice President of the Federal Constitutional Court
Prof. Dr. Stephan Harbarth
Tuesday, May 21, 2019
40 years of direct elections to the European Parliament

Prof. Dr. Dr. h.c. mult. Peter-Christian Müller-Graff Ph.D. h.c., MAE
Wednesday, May 22nd, 2019
The burqa ban between constitutional law and politics
Prof. Dr. Ute Mager
Thursday, May 23, 2019
Germany as "an equal member in a united Europe"

Vice-President of the European Court of Human Rights
Prof. Dr. Drs. H.c. Angelika Nussberger M.A.
Friday, May 24th, 2019
The future of the countries

Prof. Dr. Ekkehart Reimer
III. The language of law and the law of art
Monday, May 27, 2019
Impositions of the Basic Law - Impunity despite new DNA evidence as a result of the ban on double punishment?

Dr. Thomas Schröder
Tuesday, June 11th, 2019
Why are there diesel driving bans?
Dr. Patrick Hilbert
V. Law and Punishment
Wednesday, June 12th, 2019
Basic law and sentencing
Prof. Dr. Dieter Dölling
Thursday, June 13th, 2019
Constitutional limits of understanding in criminal proceedings
Prof. Dr. Volker Haas
Friday, June 14th, 2019
The prohibition of commercial promotion of suicide (Section 217 of the Criminal Code) - unconstitutional?

Prof. Dr. Dr. h.c. Thomas Hillenkamp
Monday, June 17, 2019
Deeds, facts and their dependence on imputation

Prof. Dr. Jan C. Schuhr
Tuesday, June 18, 2019
Witch hunt against famine? On the irrational handling of problems using the example of the Thirty Years War (1618-1648)

Prof. Dr. Andreas German
Wednesday, June 19, 2019
Criminal liability of legal persons ante portas
Prof. Dr. Gerhard Dannecker
Monday, June 24th, 2019
"Because you don't know what you are doing?" - speedster in criminal law
Dr. Thomas Schröder
VI. Law and money
Tuesday, June 25th, 2019
Do corporations have a future?

Prof. Dr. Dr. h.c. mult. Peter Hommelhoff
Wednesday, June 26th, 2019
Labeo or The Dialectic of Money, Power and Norm
Prof. Dr. Christian Baldus
Thursday, June 27th, 2019
Private autonomy at the bank counter - reason and limits for judicial control of bank charges

Prof. Dr. Andreas Piekenbrock
Friday, June 28th, 2019
What can bankruptcy law do and what cannot?

Prof. Dr. Andreas Piekenbrock
VII. Law shapes work
Monday, July 1st, 2019
Sustainable corporate management - a future perspective

Prof. Dr. Dr. h.c. mult. Peter Hommelhoff
Tuesday, July 2nd, 2019
The works council - opponent, co-manager or company partner?

Prof. Dr. Mark Lembke, LL.M. (Cornell)
Wednesday, July 3rd, 2019
Of quotas and thresholds - the right of time limitation of the future
Prof. Dr. Markus Stoffel
s
Thursday, July 4th, 2019
How legal systems are coordinated: The example of international tax law
Prof. Dr. Ekkehart Reimer

Monday, July 22nd, 2019
The international triumph of proportionality
Prof. Dr. Martin Borowski

Tuesday, July 23rd, 2019
Critical to the role of law in the problems in the process of European integration
Prof. Dr. Hans-Jürgen Hellwig

Wednesday, July 24th, 2019
Constitution-making after internal conflicts using the example of Sudan
Prof. Dr. Drs. H.c. Rüdiger Wolfrum

Thursday, July 25th, 2019
Human dignity - a universal legal principle?
Prof. Dr. Anja Seibert-Fohr

Friday, July 26th, 2019
New legal systems
Prof. Dr. Marc-Philippe Weller



Responsible: email
Last change: October 2nd, 2019