What health problems can technology cause
In the beginning, the manufacturing companies and the government did not consider the high frequency waves to be hazardous to health. While the evidence is now overwhelming, the industry is sticking to this stance.
When this technology was still in its infancy, it was believed that only the warming effect - the fact that the tissue is heating up (exactly what happens in a microwave oven) - was harmful to the cells.
However, because cell phones do not have enough energy to heat tissue, the us government has not required any studies to investigate possible health risks.
A frequency unknown to nature
But science now knows that the problem with cell phones is not caused by energy emissions (the heating effect), but rather by the high-frequency carrier wave that is sent or received by the antenna and transmits information.
This is a frequency that can transmit special information packages such as voice, text or images via mobile phone. This is exactly where the problem lies: it is a frequency that has not previously existed in nature. Our cells do not know it and perceive it as a dangerous intruder.
Recent research has shown the harmful biological mechanisms triggered by the high frequency carrier waves. On our cell membrane there are special receptors for frequency perception, the so-called microtubules.
These receptors interpret the high-frequency carrier waves as unknown, threatening energy. Therefore, the cell membrane immediately switches to a protective mode and closes, so that neither nutrients can enter the cell nor toxins and waste materials can get out of it.
High-frequency carrier waves disrupt cell communication
In addition, this prevents vital cell communication. This effect occurs immediately and lasts as long as the person concerned is exposed to the high-frequency carrier waves.
The longer the condition persists, the more biological damage is caused - free radicals, genetic mutations, loss of cell energy, premature aging and finally degenerative diseases often occur.
If there is one person who knows about the harmful effects of cell phones and other wireless devices, it is Dr. George Carlo, the author of Cell Phones: Invisible Hazards in the Wireless Age.
As a recognized medical professor specializing in epidemiology, Dr. Carlo hired by the Cellular Telecommunications Industry Association (CTIA) to lead a five-year research program with a $ 28 million budget to study the potential harmful effects of cell phones.
The CTIA firmly believed that no health impairments would be found.
Critical scientists are sidelined
Dr. Carlo and his team of 200 researchers discovered the opposite, however. After Carlo presented the research results to the CTIA, he was terminated without notice and the documents ended up in the archive. Dr. Carlo then became a respected and vocal critic of wireless technology manufacturers and one of the world's leading experts in the field of electrosmog. He says:
"We assume that these high-frequency carrier waves trigger reactions of the proteins in the area of ​​the cell membrane, which leads to the disruption of intercellular communication and the formation of free radicals within the cell. The discovery of these processes is very important, because now we have the explanation for the wide range of symptoms that we diagnose in patients with hypersensitivity to electrosmog, as well as for other ailments such as headaches and inexplicable anxiety, which from now on must be seen in connection with these carrier waves. "
Cell chaos is inevitable
Imagine what happens to a cell that cannot absorb any vital nutrients, excrete any waste materials and can no longer communicate properly with other cells: total cell chaos breaks out!
Since we are surrounded by transmitter masts and cell phone users, it has become completely impossible to escape the constant and relentless influence of high-frequency carrier waves and the associated damage to the processes in our bodies.
Increasing risks from wireless technology
The Mobile Telephone Health Concerns Registry is a not-for-profit organization dedicated to collecting information about health problems related to cell phones. In the past, most complaints related to health problems caused by cell phones, but for the past two years or so, there has been an increasing number of complaints caused by carrier waves from all kinds of wireless sources. The intensity of these high-frequency carrier waves in the environment approaches that emitted by cell phones.
What does that mean? It means that, regardless of whether you own a cell phone, you and your children are exposed to dangerous radiation due to the proliferation of wireless technology, which directly damages your cells and affects the physiological processes in their body. There is nowhere to hide from her.
Cell phones pose a threat to our children's health
Dr. Carlo is well aware of this unprecedented public health problem that is presenting us with the increasingly wireless world:
"There are increasing numbers of scientific studies showing that high-frequency carrier waves sent by cell phones and other wireless devices, which are now used by more than three billion people around the world, are dangerous. The manufacturing industry has not addressed the problem so far ; Governments around the world are stifled because they are entangled with industry and cannot protect consumers. Research shows health effects ranging from learning and developmental disabilities to cancer. If we don't address them , the burden of secondary diseases will still be borne by our children and grandchildren. "
The bad news is that we are facing an unprecedented health problem. The good news is that there are now some effective, scientifically proven, preventive measures in place.
Three countermeasures are recommended:
To combat the problem of electrosmog, three different measures must be taken: primary, secondary and tertiary. Dr. Carlo emphasizes that all three levels of intervention are necessary to ensure reliable protection against electrosmog. He calls this the public health model.
Primary intervention technologies ensure that the self-protection function of the cell membrane is not activated unnecessarily. They fight the "root cause" of health problems. This includes sensible headsets and active and passive interference field technologies (developed by the us army).
Secondary intervention technologies restore intercellular communication and thus contain the consequences of electromagnetic radiation. These work particularly well when used in conjunction with the primary technologies. These include sophisticated energy technologies, diodes, and some trailers.
Tertiary intervention technologies are used to repair cell damage. These include a healthy diet, the use of high-quality fats and oils and other food-grade supplements.
To ensure the highest possible protection, all three "phases" must be applied simultaneously: the cells must be protected from direct damage, cell communication must be restored and the body must be supplied with the necessary nutrients so that it can heal itself and stay healthy can.
Regarding the three phases of the intervention, Dr. Carlo:
How it all started
"Since electrosmog has a direct or indirect effect on all three levels, it is the most serious health problem we have ever faced - a complex problem that insidiously threatens our lives. Electrosmog disrupts central biological processes, including the immune system and It makes the population more susceptible to other damaging factors in the environment, such as air and water pollution, inferior food, viruses and bacteria as well as stress factors such as extreme heat or cold and stressful life situations. "
Take your own responsibility seriously
As we race headlong into our exciting high-tech world, we should be aware that we are all participants in a gigantic experiment. Electrosmog is a very real threat to present and future generations.
Effective countermeasures are not a luxury, they are simply a necessity. Like it or not, the expanding, all-engulfing realm of electromagnetic radiation will remain with us.
It is everyone's responsibility to take preventive measures to protect themselves, their families and future generations.
* This article contains advertising. Our website contains affiliate links (* mark), i.e. references to partner companies, for example to the Amazon website. If a reader clicks on an affiliate link and subsequently on a product from our partner company, we may receive a small commission. This means that we cover part of the costs we have for the operation and maintenance of our website and can continue to keep the website free of charge for our readers.
display
Distance training to become a holistic nutritionist
Are you interested in what's in our food and want to know how nutrients and vital substances affect the body? Do you want a healthy life for yourself, your family and fellow human beings? Nutritionists are popular - but the holistic aspect that is needed for sustainable health is often forgotten when giving advice. At the Academy of Naturopathy, you will get to know the connections between lifestyle and diet as well as physical and psychological well-being.
That educates interested people like you in around 16 months to become a holistic nutritionist out.
Is this article worth reading?
Share this article
Notice on health issues
This information is passed to the best of my knowledge and belief. They are intended exclusively for those interested and for further training and are in no way to be understood as diagnostic or therapeutic instructions. We do not assume any liability for damages of any kind that arise directly or indirectly from the use of the information. If you suspect illness, please consult your doctor or alternative practitioner
Related articles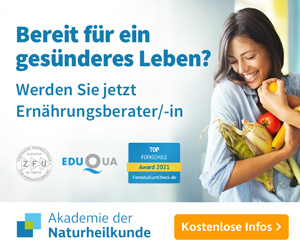 Subscribe to Newsletter
Exciting information about health and nutrition
1x per month
Login Successful. You will shortly receive a confirmation at the specified email address.
With your registration you allow the regular sending of the newsletter and accept the data protection regulations.
HEALTH CENTER © 2021 Neosmart Consulting AG. All rights reserved.